the doctors
Our doctors are dedicated to providing prompt and knowledgeable medical care with a focus on preventative medicine in a confidential, caring and comfortable environment. Here at the HealthHub at Taree and Harrington, you will discover that you have a partner who will assist you to accept more responsibility and be more active in the choices you make in your health and lifestyle decisions so that you may achieve optimal health and enjoy life to its full potential.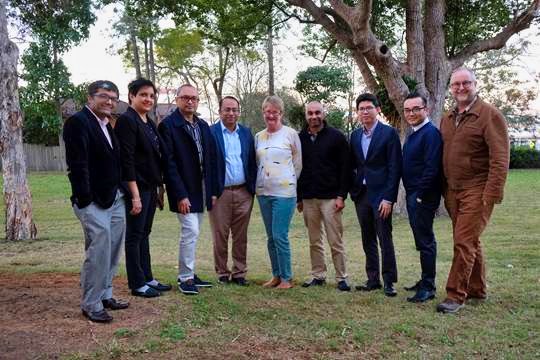 Dr Simon Holliday
GP and Addiction Physician
Dr Simon Holliday has been a rural GP for over 30 years. He has qualifications in General Practice, Addiction Medicine, Anaesthetics, Obstetrics and Epidemiology and has published research on addiction, pain and GP education. He is a Conjoint Lecturer in the Faculty of Health at the University of Newcastle and is a staff specialist in drug and alcohol clinical services with the Hunter New England Local Health District.
Dr Lawrie Nguyen
GP
Dr Lawrie Nguyen has been a GP in Taree since 2004. He completed his training as a doctor at the University of NSW and finished his GP Fellowship in 2000. His hobbies include walking, reading and spending time with family.
Dr Shakthi Premarathne
GP
Dr Shakthi Premarathne has been working as a GP in Taree for three years. She offers care in English and Sinhalese.
Dr Enayet Karim
GP
Dr Enayet Karim has worked in the NSW hospital system for many years and has
special interests in geriatrics, chronic pain management and palliative care. He offers care in English and Bengali.
Dr Kevin Aung
GP
Dr Kevin Aung has worked in hospitals and primary healthcare in Myanmar, Jamaica and Sydney. His special interests are in cardiology, gastroenterology, mental health and preventative health. Dr Aung offers care in English and Burmese.
Dr Zia Hoque
GP
Dr Zia Hoque has worked in hospitals and community health clinics across NSW. His interests are in mental health, drug and alcohol problems, and Aboriginal health. Dr Zia offers care in English, Hindi and Bengali.
Dr Anne Jolly
GP
Dr Anne Jolly gained her medical degree in Samoa, after a long career in nursing, midwifery and the Royal Flying Doctor Service. Dr Jolly's medical interest includes women's, men's, children's, Mental Health and cancer care.
Jeanette Pheiffer
Psychologist
Jeanette Pheiffer is a member of the Australian Psychological Society and is accredited with Veteran Affairs, NDIS, Work Cover and Victims of Crime. Jeanette has more than 20 years' experience in helping her clients manage work and life issues. Jeanette addresses work and life trauma, depression, panic and anxiety, stress, sleep problems, relationship issues and grief.
Matthew Tyrpenou
GP Registrar
Matthew is a graduate of the University of Newcastle and a GP Registrar. He has worked as a GP in Gosford & Newcastle since 2018. He holds a Diploma of Child Health and enjoys all aspects of general practice. Outside of work Matthew enjoys running and spending time with his family and dogs.