medical and allied health practitioners
The practitioners are dedicated to providing prompt and knowledgeable medical care with a focus on preventative medicine in a confidential, caring and comfortable environment. Here at the HealthHub at Taree and Harrington, you will discover that you have a partner who will assist you to accept more responsibility and be more active in the choices you make in your health and lifestyle decisions so that you may achieve optimal health and enjoy life to its full potential.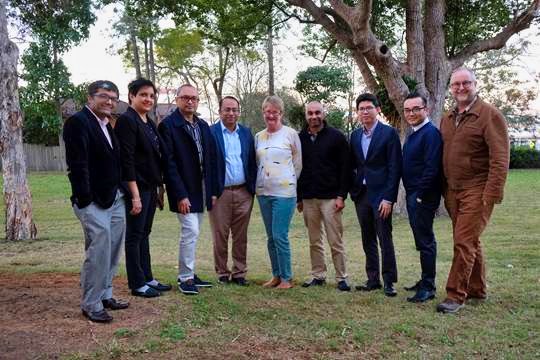 GP Registrars
Our practice participates in the Australian GP Registrar Training Program.
We host 6-12 month placements for fully qualified doctors undergoing specialist higher training in general practice.
Dr Simon Holliday
GP and Addiction Physician
Dr Simon Holliday has been a rural GP for over 30 years and since 2005, a specialist in Addiction Medicine. He has additional qualifications in Addiction Medicine, Anaesthetics, Obstetrics and Epidemiology and has published research on pain, palliative care and GP education. He is a Conjoint Lecturer in the Faculty of Health at the University of Newcastle and won the 2022 Primary Care Leadership and Innovation Award from Hunter New England and Central Coast Primary Health Network.
Dr Lawrie Nguyen
GP
Dr Long (Lawrie) Phan Nguyen has been a GP in Taree since 2004. He completed his training as a doctor at the University of NSW and finished his GP Fellowship in 2000. Besides being a doctor, he also enjoys table tennis, tenpin bowling, walking and reading. I have been a Taree resident for 20 years and I love what I do. It is an honour and privilege to work at the HealthHub.
Dr Manuel Torres
GP
Dr Torres completed a Bachelor's degree in Medical Technology prior to completing a Doctor of Medicine overseas.  He then undertook adult medicine specialty training and worked in hospitals on the Central Coast. Since 2020, he worked as a GP in Gosford and Umina and in the Manning since 2022. He has a special interest in Child Health and Adult Medicine particularly chronic diseases. He loves spending time with his family, taking care of indoor plants and loves to travel. He is fluent in English and Filipino.
Dr Luisa Ayento- Torres
GP
Dr Lizzie Torres finished a Bachelor's degree in Psychology before completed her Doctor of Medicine, specialising in adult medicine overseas. She has previously worked in hospitals on the Central Coast before commencing with the HealthHub in 2022. She has a particular interest in General Medicine particularly in Geriatrics. She loves spending time with her family, the outdoors, doing yoga and poetry. She is fluent in English and Filipino.
Dr Zia Hoque
GP
Dr Zia Hoque has been working in Australia since 2008. He has extensive experience in Mental Health, Drug and Alcohol problems, Pain management, Chronic disease management, Children and Women's Health and Workers Compensation. He is very passional about patients with developmental delays and disabilities and has a good understanding of the complex NDIS system. He is also a registered GP provider of Focussed Psychological Strategies. He is empathetic by nature and believes in establishing a doctor-patient relationship based on mutual understanding, trust, loyalty and regard.
Dr Anne Jolly
GP
Dr Anne Jolly gained her medical degree in Samoa, after a long career in nursing, midwifery and the Royal Flying Doctor Service. Dr Jolly's medical interest includes women's, men's, children's, Mental Health and cancer care.
Dr Edah Obligado
GP
Dr Edah Obligado has been practicing as a GP in the Phillipines since 2008 with a special interest in family medicine, women's health and chronic disease management. Her love of helping friends, family and the general public to get on top of their health and wellbeing is deeply enrooted in her natural gentle and caring nature. She is the mother of three beautiful children who keep her on her toes. She would be happy to attend to your medical needs.
Matthew Tyrpenou
GP
Matthew completed his GP Fellowship in 2020 and is a GP Registrar Supervisor. He has worked as a GP in Gosford, Newcastle and the Manning since 2018. He holds a Diploma of Child Health and an Advanced Certificate of Skin Cancer Medicine and  Professional Certificate of Skin Cancer Surgery. Outside of work Matthew enjoys running and spending time with his family and dogs.
Dr Asma Susanna
GP
Dr Asma Susanna completed her medical training in Bangladesh and has been working in Australia since 2013. She has worked extensively in tertiary care involving Women's Health, Diabetes, Critical care and Family medicine. Dr Susanna has also worked in Acute Care/Emergency and Mental Health in various regions in Sydney and Tamworth. Dr Susanna plans to stay in this area in the long run and grow roots here. She is taking new patients and offers care in English and Bengali.
Dr Deo Villareal
GP
Dr Deo Villareal completed his medical studies in the Phillipines. He has a Diploma in Child Health and worked in general paediatrics in Manila and in Australia with extensive Paediatric Emergency training in KK Children's and Women's Hospital in Singapore, the largest referring Children's Hospital in Southeast Asia. He has practiced in the Manning since 2020. His field of interests include General Paediatrics, Adolescent medicine and chronic diseases of the elderly. He is fluent in English and Filipino. 
Capstone Podiatry – Youngho (James) Lee
Podiatrist
James is an accredited Podiatrist graduating with a Distinction from the University of Newcastle. James provides routine care for calluses, corns, warts and ingrown toenails. He utilises biomechanical and video gait analysis to assess the painful foot and tailor orthotics or modifications of footwear. James undertakes nail surgery and cares for high risk complications such as diabetic foot ulcers. He is happy to take on new patients.
Empower Physio for Women – Isobel Horniblow
Physiotherapist
Izzy is an accredited Physiotherapist with training in Women's Health Physiotherapy. Isobel offers services in pelvic floor muscle training, pregnancy and postnatal pelvic floor physio, pregnancy related pain, bladder dysfunction, ano-rectal disorders, pelvic pain conditions and conservative management of pelvic organ prolapse. Isobel is also a skilled musculoskeletal physiotherapist and able to assist with muscle and joint pain and injury rehabilitation.
Toni Kernick
Clinical Psychologist
Toni is a Clinical Psychologist and member of the Australian Psychological Society. She is currently accepting referrals through Medicare and Veteran Affairs, as well as Private referrals. Toni enjoys working with young adults, adults, and older adults to collaboratively address difficulties such as work/ study, burnout, sleep issues, anger, life transitions, adjustment issues, anxiety and phobias, and provides relationship counselling. Toni will also be including Animal Assisted Therapy in her private practice with her small co-therapist dog, Roy.